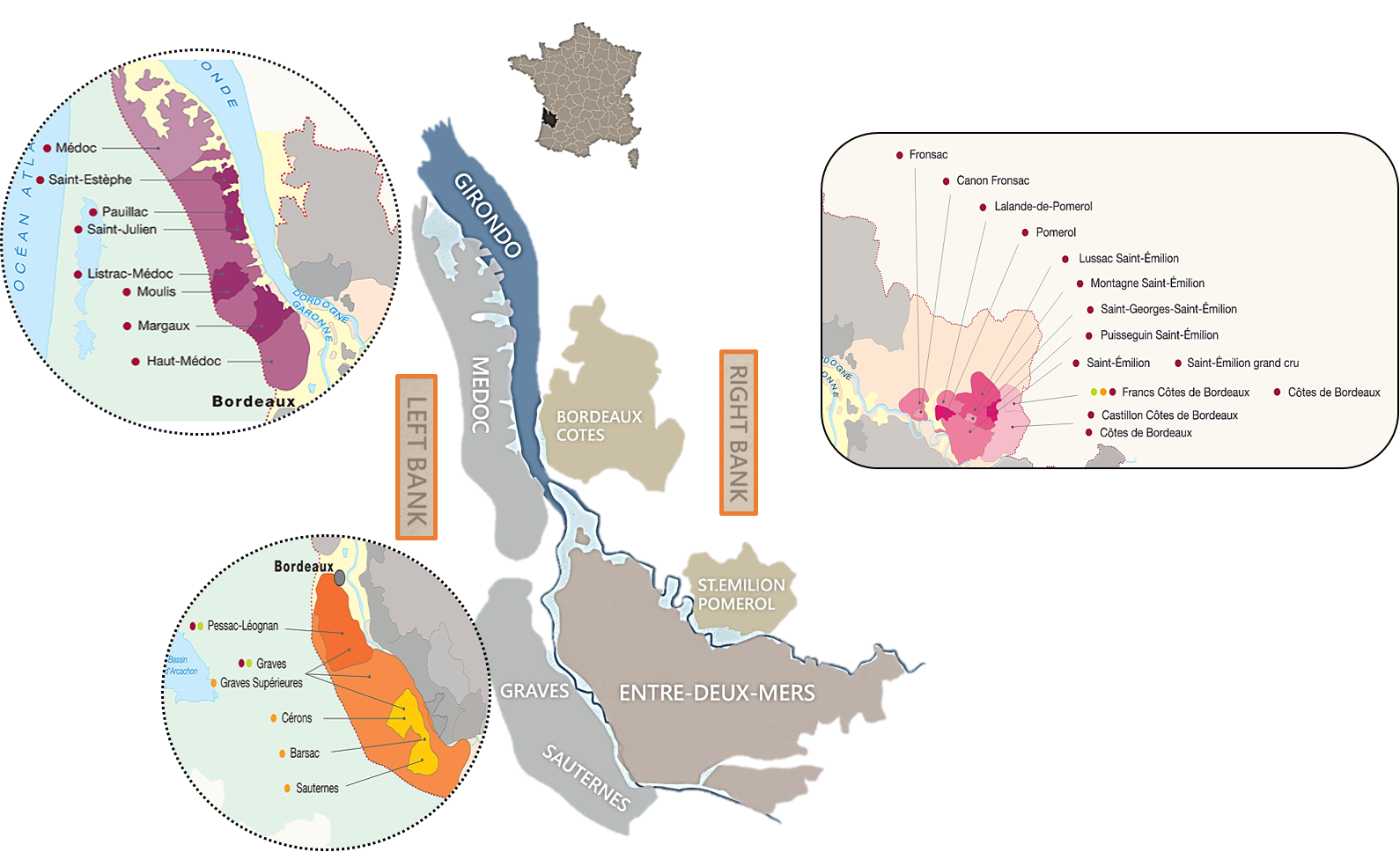 (Bordeaux map)
About Bordeaux Region
The Bordeaux terroir which closes to the river with a long history, and has developed into the largest vineyard in France, becoming one of the most famous wine-producing regions in the world. The vineyards are mainly surrounded by three rivers, namely Gironde, Garonne, and Dordogne. These three rivers define the three major regions of Bordeaux, like Left Bank, Right Bank, and Entre-Deux-Mers.

【Left Bank】
The "Left Bank" is located on the left side of the Garonne River, from Medoc to Graves is 160 kilometers, and the main red grape is "Cabernet Sauvignon", this grape character is with black fruity flavour and strong Tannin, this wine can age quite long, and also you can find the France top 5 Grand Cru Classe winery.

【Right Bank】
The "Right Bank" is located on the east side of the Dordogne River, which is a cooler inland area. It is located in the town of Libourne, The well-known region is Saint-Emilion and Pomerol where the soil is a mixture of gravel and clay, suitable for the growth of easy-to-ripen Merlot red grape varieties. The grape style is smooth, sweet, and mature blackberry aroma with high alcohol, tannins Silky and easy to drink early.

【The between of two rivers】
"Between the two rivers" is located at the intersection of the Garonne and the Dordogne. It has a vast area, large undulations, and diverse soils. It is the largest wine-growing area of ​​Bordeaux vineyards. the wine style is a fresh and light body, a soft and pleasant taste. It is the important white wine production in Bordeaux.